Back to All Companies
Herbalife International, Inc. | Company Profile, Marketing Contacts, Media Spend, Brands
Headquartered in Los Angeles, CA, Herbalife manufactures weight management products, nutritional supplements and skin and hair care items. The company has international subsidiaries in more than 60 countries.
| | |
| --- | --- |
| Main Telephone | (310) 410-9600 |
| Main Fax | (310) 557-3901 |
Primary Address
800 West Olympic Boulevard
Suite 406
Herbalife International, Inc. Contacts
Contacts (5/10)
Name

Title

State

Barbara H.
President - Herbalife Foundation

CA

Sample of Associated Brands

***********

---

Email:

*****

@

*******

.

***

Main Phone:
(310) 410-9600
Direct Phone:

*** **** ***

ext:

****

Direct Fax:

*** **** ***

Assistant Name:

** **** ***

Assistant Phone:

*** **** ***

Address:
800 West Olympic Boulevard Suite 406 Los Angeles, CA 90015 USA

---

John D.
Chief Financial Officer

CA

Michael J.
Chairman & Chief Executive Officer

CA

Frank L.
Executive Vice President & Managing Director, The Americas & Worldwide Marketing

CA

Vicki A.
Senior Director, Product Marketing - North America

CA
Media Spend
Associated Brands
| | Brand | Media Spend |
| --- | --- | --- |
| | A.M. Replenishing | * |
| | Aminogen | * |
| | Cell-U-Loss | * |
| | Colour | * |
| | Dermajetics | * |
Recent Discussions
Who is the President - Herbalife Foundation of Herbalife International, Inc.?
Who is the marketing contact for vitamins & nutritional supplements in CA
What is the email of the Chief Financial Officer of Herbalife International, Inc.?
What is direct phone of the Chairman & Chief Executive Officer of Herbalife International, Inc.?
Who is the Integrated Creative, Strategy agency of Herbalife International, Inc.?
Your personal LinkedIn™ network connections
WinmoEdge
INTERVIEW: Herbalife's Corp Alliance Director discusses importance of sponsorships
By Natalie Quinn
Staff Writer
natalieq@dailyvista.com

has signed a new sponsorship deal with LA Galaxy defender Sean Franklin and renewed contract with Omar Gonzalez, the 2011 MLS Defender of the Year, for the second consecutive year.


Gonzalez will keep his nutrition regimen, incorporating Herbalife's nutrition products, continue recommendation through marketing materials, and participate in several promotional events.
Franklin begins the new partnership as the official nutrition sponsor and will also promote the products at various events.

"It's exciting to be part of the Herbalife family," said Franklin. "I've been using the products Herbalife supplies in our locker room for the past couple of years and to have a closer relationship with the company and its enthusiastic independent distributors with this new partnership, it really is special."
This new deal comes only months after the 2011 MLS Cup Champion announced a record 10-year extension with Herbalife. The extension will run through the 2022 season and is valued at more than $44 million, making it the single largest and longest sponsorship agreement in league history.

WinmoEdge spoke with Brian McKinley, senior director of corporate alliances at Herbalife, about the recent sponsorship, current global business, and his openness to partnership opportunities that are the "right fit".

Natalie Quinn: What are your current roles and responsibilities at Herbalife as senior director of corporate alliances?

McKinley: I oversee all of our worldwide sponsorships, both on managing and day to day activities and as well as some of the smaller ones in oversight.

Sponsorship is our primary branding activity. In general we don't do a lot of traditional media so most of what we do in terms of consumer marketing is sponsorships.
Natalie Quinn: Why were these particular players chosen for sponsorship and why the LA Galaxy?

McKinley: Everything we do sponsorship-wise is about fit to be honest. When we look at any of the deals that we do it's not just about the media return. I'd say most companies, most traditional companies, when they look at sponsorship, they look at the media exposure they are going to get, whether it's from a jersey or field boards.

But, because we are not a traditional advertiser, for us it's much more about the push marketing that we are able to give to our distributor base. So sponsorship for us is about having the right people to do a number of things for us.

One is that we are looking for people who can provide credibility to our brand, somebody who doesn't spend hundreds of millions of dollars out there marketing our name. We need people and relationships that build credibility. We also do need to build a brand, so brand exposure is important us.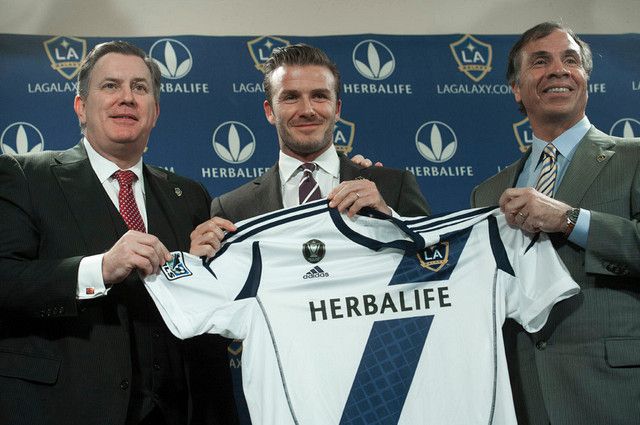 The Galaxy as a Right Fit

McKinley: The galaxy for us is very much a brand play.
To have our jersey seen by millions of people every week in terms of just pure Galaxy exposure as well as having a jersey that is sold in retail outlets around the world is incredibly valuable to building our brand.

I think it's one of the most effective ad buys that you can make but on the same hand it is about fit, and we have a great fit with the Galaxy.
In everything that we do in terms of sponsorships we like to have authentic relationships. We like people who are actually engaged in our products and our business and everything that we do.

So, the Galaxy relationship is very much in that venture, we work very hard to make sure that the players have access to our product, that our doctor is available to educate them on who Herbalife is and the products that we make, as well as we have relationships with the Galaxy, for example that reach into our foundation.

We have a mutual foundation program that we run between the galaxy foundation and the Herbalife family foundation to support a local children's support group here in LA. So again, the reason for all that is about fit, it's not necessarily about soccer.

You know soccer is a global environment; David Beckham is obviously a global athlete, so all of that resonates very well. And that is a certain point of justification but it really has to do with fit, and we look for people who want to embrace the Herbalife mission and the Herbalife brand.

Gonzalez and Franklin as Right Fit

McKinley: When you talk about players it's a little bit different. Sean and Omar are both dynamic individuals that believe that there's much more to relationships than "hey I'm going to buy you and put you on a billboard and that's the end of the day."

We really look for people who want to engage in our business and understand who Herbalife is. I need voices within the Galaxy Universe to make sure that they understand, at the utmost, who Herbalife is and how we represent ourselves.

So Sean and Omar are both the embodiments of our galaxy relationship. They believe in supporting our foundation and they believe in our products. They support us in terms of our distributor base.

Everything that they do is about right fit. Omar obviously has a big draw for us, we've got about a large percentage of our distributor population is Spanish speaking so having Omar, who's of Mexican descent, is of huge value to us.
But you know, it's more about him as an individual and we've been fortunate enough to get to spend a lot of time with the Galaxy players and learn a lot about them and these are two people who embody what Herbalife is and that makes them the right fit for us.
Gonzalez's Second Year
McKinley: We sign a number of Galaxy players every year and there are a couple of reasons for that.
One is to have an individual representative from the team that we can use for marketing purposes, which is important, but the other reason really is to have a real voice, somebody who not only have a voice in the Galaxy locker room, but also have a voice to our distributor base. We need the Galaxy to talk and we need individuals to do that.

The truth is, the initial draw [to Omar], was his Latino background, but for us all of those nuggets, whether you're the top scoring player of the team, the captain of the team, the best looking on the team, whatever you want to call it.

Those are all just entry points for us. Once you're in the door is when we really start to make our decisions. What drew us to Omar was his passion. He's passionate about the sport but he's also passionate about having relationships--relationships with his sponsors, relationships with his fans. He's a much more in-depth individual in my mind and that's what we look for.

Beyond Soccer
Natalie Quinn:
Why are soccer and other sports part of your outreach? What other sports are involved?
McKinley:
The line share of our marketing spend is in the soccer universe and soccer for us mostly has to do with the
global appeal of soccer
. It is the number one sport in the world and for us, to have a large presence within that sport, is important as an international company with 80 plus countries around the world that we need to make our marketing dollars work the best for.
Soccer makes a whole lot of sense for that, but that being said, I would venture to say, you name the sport and I would guess we've got some sort of representation around the world.
When you get into some of our more unique marketplaces, like for example India, where soccer is not the leading sport in the world, you've got sports like Cricket and Badminton and you know formula one, whatever it may be, we've reached. We have different relationships in India; we have a Cricket player and we have a badminton player.
When you get into more of the Nordic areas we are invested in more of the winter-type sports that are much more popular up there. So going from marketplace to marketplace is where we see a lot of diversions away from soccer.
When you think about the global sponsorship landscape, we really are pretty much concentrated on the soccer market, primarily with the Galaxy, and then we've got a relationship with FC Barcelona and Leo Messi.
So, from a global perspective it's still very much soccer but when you get down into the local individual countries, some of the sponsorships they're selecting are much more locally driven and in turn take on different forms.
Natalie Quinn:
What other partners and sponsors does Herbalife have? Do these types of alliances extend outside of sports?
McKinley:
We have very few.
Herbalife is a healthy active lifestyle company
and that's why I think sports resonate so well with us because it is that natural fit.
We do have a Bollywood actress in India that we support, a handful in the past and none that I think we have currently beyond that. But sports have been
the natural fit
for us and I think it's, again, going back to the fundamental values as to why we sponsor.
Sponsorship for us is that credibility factor, that connection to the healthy active lifestyle, showing that we have a product that fits in with the realm. Whether that's weight management and taking care of your body or its true sports and fitness, we feel that sports make the most sense for us.
It also has to do with how you market.When you're not spending half a million dollars in marketing every year, as a company of our reach normally would be doing, you need sponsorships that work for you.
If you go out and sponsor Jennifer Lopez, who's an amazing talent and great individual, you have to market her essentially. You have to market her relationship with you and run commercials and traditional media which we just don't do. When you get in the sponsorship universe a lot of that's done for you in the terms of the branding that goes along with the sponsorship.
Natalie Quinn:
How do sponsorships factor into Herbalife's overall marketing and communications approach? Why are these so important?
McKinley:
We do it all, we just do it on a much more limited scale. As a direct sales company, the line share of our market is really done by our distributor talking and a person to person, day to day basis, versus large marketing platforms that reach a large number of people.
We have large scale of outdoor marketing campaigns that are ongoing in South America. We just did a commercial shoot with Leo Messi couple of months ago in which he plays basketball, but we don't take that commercial and go buy super bowl ad time or major network and time. We'll run it on the opportunities that we get as well as we'll do it on more of an online platform.
I would say
online is the place that we are most dialed into
. Again, we're not one of the big brands in terms of what we are doing in the online universe, but certainly social media is an important aspect of our business. It has a good connection to our distributor base, and allows our distributors to really connect to the company very well. So, we do it all, we just don't do it in the scale that I would say most companies of our size are doing it.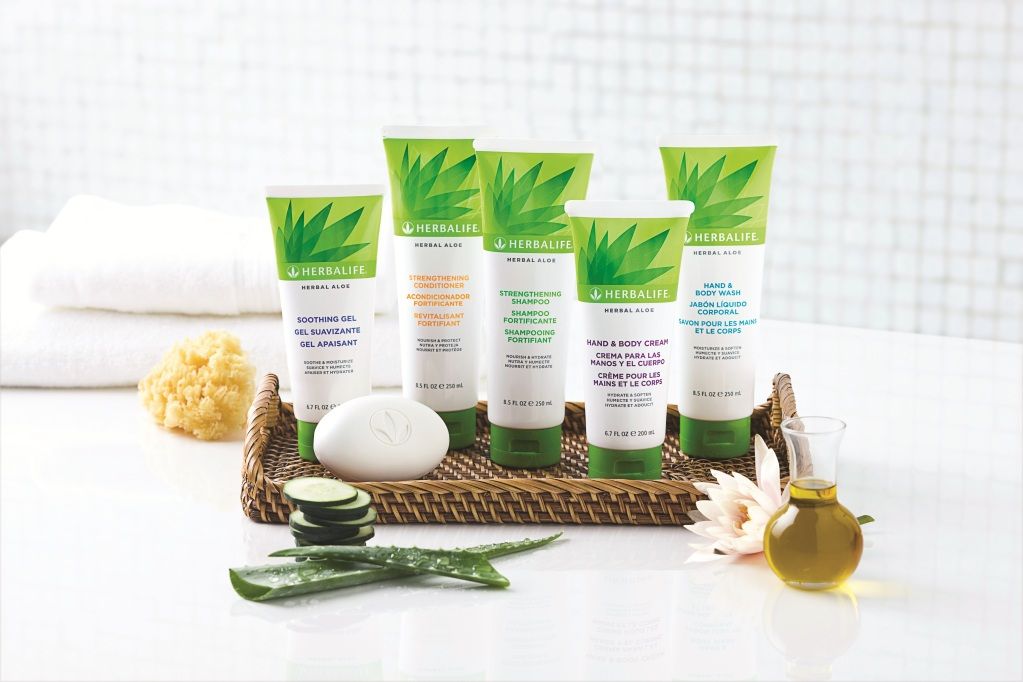 Natalie Quinn:
Outside of sponsorship, what are the primary channels and media that Herbalife uses to build awareness?

McKinley: It's our second year with the . It's an incredible event; it does two major things for us.

One is that it has great brand exposure, being a title sponsor of an even that's got 11 games across probably 8 to 10 cities as well as broadcast worldwide, the exposure is tremendous.
The teams that are participating, again, large international brand teams that have global reach that people are following in their daily activities. So for a brand, a reach perspective it's tremendous.

The second thing it does for us is that it is a connection to that international market place and the soccer universe. The teams that are coming over here, th, these are all big international brands and for our brand and our products to be exposed to them are incredibly valuable.

It's an exciting event. Obviously it's our second year so we had a relationship last year where we had a number of distributors come out and we get them to participate in the event itself. The media that's associated with it is tremendous.

Natalie Quinn: Are there any primary challenges Herbalife faces from a marketing perspective and how does the company overcome these obstacles?

McKinley: Absolutely! Within this sponsorship realm it's incredibly challenging. To be honest, I think our model and the way we approach sponsorship and manage sponsorship is different than most companies out there.

Most rights holders aren't used to our sort of relationship. So, when you're looking for the right relationships, the challenge is finding the right relationships. When you want to have an all-inclusive, authentic, true partnership, you have to find partners that want that as well. So, from a connection and a fit perspective, that is the challenge.

I think anybody can look at the traditional media comparisons and media opportunities that are in a team or an athlete (or whatever it may be) but, when you start to look at those less tangible assets, like the benefit of having a team that really embraces product and a team that wants to help and help us be a better company and do better things (whether that's foundation-driven product-driven), those are harder to find.

When you get into the traditional media landscape, when you are a small buyer, it's much more challenging than when you're a big one. You have to be selective in where you're going to spend your money.

You have to make sure that every cent you put out there is effective at the end of the day. So, I think it's incredibly challenging for us in terms of the marketing universe as a whole. But the beauty of our system is having two million brand ambassadors out there who are a unique marketing tool that no other company has and that's that makes us different.

Natalie Quinn: Who are Herbalife's current key consumer and customer segments, and audiences?

McKinley: As a global company and an international company it varies market to market. But, the reality is we are a healthy active lifestyle company.

Whether somebody's coming into this company, consumer or distributor or whatever their weight-loss goals if it is in the health base, we have a solution for it and I think that that makes us a dynamic company that has a much broader reach than one particular demographic.

As a direct sales company as well, I think that it's not always just product; there are business opportunities in here, there are opportunities to make a difference in the environments you live and work in.

We wholeheartedly embrace our distributors in supporting them in whatever their goals in life are and goals and missions within the Herbalife business are. So I would hate to pigeonhole us and say we are primarily female or female a Latino business, we are not.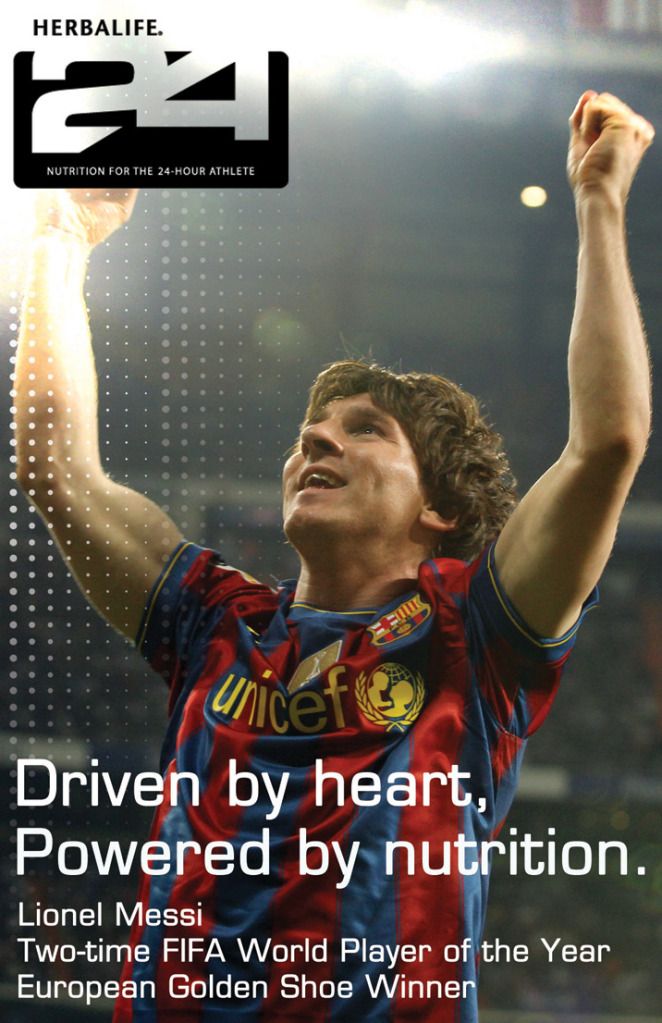 We are a global, we are multi-
cultural, we are truly a company that reaches all boundaries and I think that's what makes us unique to the marketplace as a whole.
Natalie Quinn: Does Herbalife have a particular audience just focused in the United States?
McKinley: I think you could, well this is a little bit out of my realm of responsibility but we definitely have a large Latino presence, I would say that we have a larger number of females in the business versus males, but you know, again, it all kind of depends.
We see a huge growth opportunity and a lot of growth within our young demographic here. We call them our 'Generation H' or the next world of Herbalife.
As well as, last May we launched a full comprehensive line called and we've seen huge leads in terms of us really targeting the fitness market which is a different market for us which brings a different demographic.
You could probably just look at the landscape and make generalities, but I don't think that really tells the whole picture. I think what makes us unique is our distributor-base and that distributor in and of itself is a unique and dynamic personality.
Natalie Quinn: Are you open to approaches regarding sponsorship and other types of strategic marketing alliances?
McKinley: Absolutely, I think that what makes us unique is we are looking for the right relationships. There's no formula for us, we are looking for the right opportunity and the only way to find the right opportunity is to be out in the market place.
It's my job to talk to people. We want to know what's out there. We want to know the opportunities that are out there. We are opportunistic buyers we look for the right opportunity to have the right fit at the right time.

Do we buy everything? No. Are we the biggest spender in the world? No. But in terms of being open to explore the various worlds of sponsorship and alliance beyond that, of course, absolutely!

Contact McKinley at brianm@herbalife.com for this opportunity.

According to Senior Director of Corporate Communications, Marco Gonzales, Herbalife has worked with in the past for PR efforts, but now only on a per-needed basis; not on retainer.
---
Herbalife International, Inc.
800 West Olympic Blvd.
Suite 406
Los Angeles, CA 90015
(310) 410-9600

Yolanda Lopez-Vega
Marketing Manager, Global Marketing
(310) 410-9600

Jennifer Guran
Senior Manager, Alliances & Sponsorships
(310) 410-9600
jenniferg@herbalife.com

Brian McKinley
Senior Director, Corporate Alliances
Brianm@herbalife.com

Marco Gonzales
Senior Director, Corporate Communications
310-258-7120
marcog@herbalife.com