Back to All Companies
Popeyes Louisiana Kitchen, Inc. | Company Profile, Marketing Contacts, Media Spend, Brands
Popeyes Louisiana Kitchen, formally known as Popeyes Chicken & Biscuits, is a leading quick-service cajun chicken restaurant chain. Popeyes has more then 1,881 restaurants in the United States, Puerto Rico, Guam and 24 foreign countries. The company is headquartered in Atlanta, GA. ** NOTE: As a privately held subsidiary of a publicly traded parent company, annual revenue and employee count are not readily available. Therefore, the revenue and employee figures presented below are those of the parent company. **
| | |
| --- | --- |
| Main Telephone | (404) 459-4450 |
| Main Fax | (404) 459-4530 |
Primary Address
400 Perimeter Center Terrace
Suite 1000
Popeyes Louisiana Kitchen, Inc. Contacts
Contacts (5/22)
Name

Title

State

Lynne Z.
Chief Talent & Human Resources Officer

GA

Sample of Associated Brands

***********

---

Email:

*****

@

*******

.

***

Main Phone:
(404) 459-4450
Direct Phone:

*** **** ***

ext:

****

Direct Fax:

*** **** ***

Assistant Name:

** **** ***

Assistant Phone:

*** **** ***

Address:
400 Perimeter Center Terrace Suite 1000 Atlanta, GA 30346 USA

---

John L.
Chief Information Officer

GA

William M.
Chief Financial Officer

GA

Harold C.
Senior Vice President & General Counsel

GA

Steven F.
Senior Vice President, Development

GA
Media Spend
Associated Brands
| | Brand | Media Spend |
| --- | --- | --- |
| | Popeyes Louisiana Kitchen | ******* |
| | Popeyes Bonafide Krewe | ****** |
Agency Relationships
| Brand | Agency | Service | From | To |
| --- | --- | --- | --- | --- |
| ******* ********* ******* | *** ******* ** ****** | media buying & planning | 2004 | present |
| ******* ********* ******* | ***&* **** **** | AOR - creative, media buying & planning | 2008 | present |
| ******* ********* ******* | ****** *********** | digital | unknown | present |
| ******* ********* ******* | ***&* **** **** | media buying & planning | 2008 | present |
Recent Discussions
Who is the Chief Talent & Human Resources Officer of Popeyes Louisiana Kitchen, Inc.?
Who is the marketing contact for restaurants in GA
What is the email of the Chief Information Officer of Popeyes Louisiana Kitchen, Inc.?
What is direct phone of the Chief Financial Officer of Popeyes Louisiana Kitchen, Inc.?
Who is the media buying & planning agency of Popeyes Louisiana Kitchen, Inc.?
Your personal LinkedIn™ network connections
WinmoEdge
Popeyes teams up with Zatarain's to launch new Butterfly Shrimp offering
introduces Zatarain's Butterfly Shrimp to observe and celebrate the two brands' New Orleans origin, U.S.'s only indigenous food dating back to 1718.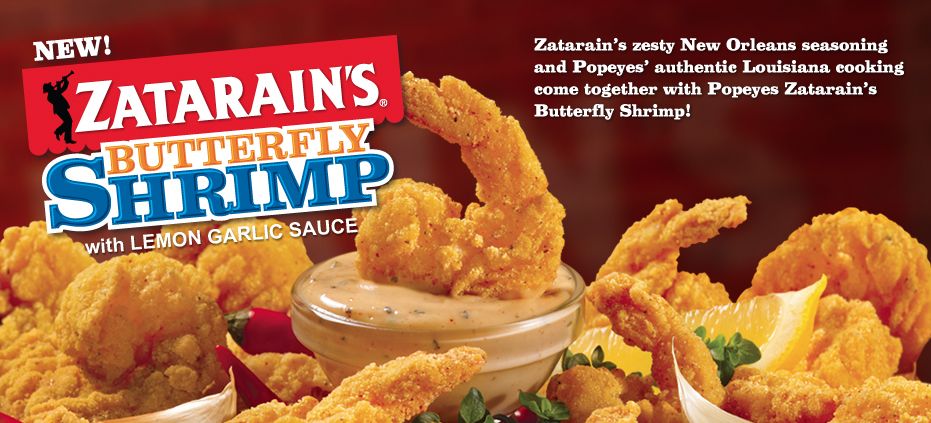 The Zatarain's seasoning on top of eight cornmeal-breaded Popeyes Butterfly Shrimp served with Cajun friends, a biscuit and Lemon Garlic Dipping sauce for $4.99 will be available until Sunday, July 29.

"Popeyes is fortunate to have a Gulf Coast heritage that allows us to explore seafood innovation with the unique New Orleans flavor our fans love," says Hector Munoz, vice president of marketing.
"Partnering with Zatarain's was the perfect way to celebrate two great brands and the fun and flavor of our home city. What can we say? 'We heart NOLA.'"

Popeyes, founded in 1972 in New Orleans, is the world's second largest quick-service chicken food provider and has over 2,044 locations.

"For more than a century, Zatarain's has been the authority on the authentic taste and vibrant spirit of New Orleans," says Michael Morse, general manager of Zatarain's. "As a brand, we continue to evolve our products and the ways we connect with consumers. That's why we're excited to team up with Popeyes to jazz up butterfly shrimp and help folks across the country enjoy the big flavors of The Big Easy."

According to The List, is Popeyes AOR but this has not been confirmed yet by DV. WinmoEdge is seeking an interview with Popeyes to learn about their growth initiative and marketing strategy.
---
Popeyes Chicken & Biscuits
400 Perimeter Circle Terrace
Suite 1000
Atlanta, GA
(404) 459-4450
Marianna Magee
Marketing Brand Manager
(404) 459-4450
Hector Munoz
Vice President, Marketing
(404) 459-4450
Alicia Thompson
Vice President, Communications & Public Relations
(404) 459-4572
Dick Lynch
Chief Global Brand Officer
(404) 459-4450