Back to All Companies
Kubota Tractor Corporation | Company Profile, Marketing Contacts, Media Spend, Brands
Kubota Tractor Corporation is a tractor and heavy equipment manufacturer. Through a network of authorized dealers, the company sells its products and equipment across the U.S. Kubota Tractor Corporation is headquartered in Torrance, CA.
| | |
| --- | --- |
| Main Telephone | (310) 370-3370 |
| Main Fax | (310) 370-2370 |
Kubota Tractor Corporation Contacts
Contacts (4)
Name

Title

State

Masato Y.
President

CA

Sample of Associated Brands

***********

---

Email:

*****

@

*******

.

***

Main Phone:
(310) 370-3370
Direct Phone:

*** **** ***

ext:

****

Direct Fax:

*** **** ***

Assistant Name:

** **** ***

Assistant Phone:

*** **** ***

Address:
3401 Del Amo Boulevard Torrence, CA 90503 USA

---

Dan J.
Vice President, Human Resources, Legal & Administration

CA

Buck T.
Director, Marketing

CA

Vincent I.
Marketing Communications Manager

CA
Media Spend
Associated Brands
| | Brand | Media Spend |
| --- | --- | --- |
| | Kubota Tractor Corporation | ******* |
Recent Discussions
Who is the President of Kubota Tractor Corporation?
Who is the marketing contact for industrial & farm equipment in CA
What is the email of the Vice President, Human Resources, Legal & Administration of Kubota Tractor Corporation?
What is direct phone of the Director, Marketing of Kubota Tractor Corporation?
Who is the public relations agency of Kubota Tractor Corporation?
Your personal LinkedIn™ network connections
WinmoEdge
Update: Kubota Construction Equipment hires Martin Williams as AOR
Update:
It looks like we may have been overzealous in our Take on Kubota Construction Equipment and its new AOR relationship with Martin Williams. We originally wrote that we expected the Omnicom agency to also play a role in Kubota's expansion next year into the larger tractor segment, but here's what we heard back from Kubota, "Martin Williams is only handling the aforementioned line and has no involvement in other Kubota product lines. Martin Williams will not be playing a major role in any tractor activity next year or at any time in the foreseeable future.

I guess we'll see what happens a year from now. With Kubota placing a renewed focus on construction, new ad sales opportunities should arise. Also, still keep an eye on the company's expansion into the larger tractor segment and production agriculture market next year because new market entry typically leads to new business opportunities.
---

Company:
Kubota Construction Equipment
New Agency: Martin Williams Advertising
Scope of Work: AOR
Additional Insight: The Omnicom- owned agency will assist Kubota's California-based marketing division with its efforts to increase awareness in the construction sector.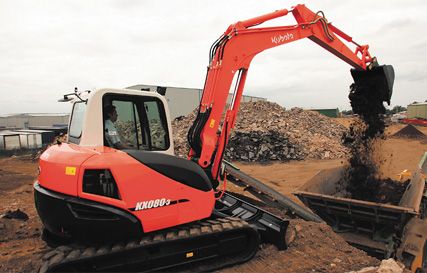 Martin Williams first work for Kubota will launch in February.
"We understand that customers in different product segments have different needs," said Buck Trawick, Kubota Tractor Corporation's (KTC) director of marketing, in a statement. "This special agency focus will help us maintain our global market leadership in compact excavators and build a solid foundation for our growth in the coming years."
KTC's new president Masato Yoshikawa highlighted the company's press release.
"We are committed to continuously innovating our products and processes to meet our customers' needs, and I am confident that in doing so, we will continue to strengthen Kubota's brand and position in the U.S. marketplace," he stated.
Kubota allocated almost $7 million towards measured media in 2012, about double what it spent in 2011.
Besides construction, Kubota, known for its strong presence in the utility and compact tractor market, plans to introduce larger tractors in North America and Europe this year to better challenge industry leader John Deere, according to introduction of larger machinery in 2012, Kubota is targeting sales of about 300 units of these 200 horsepower tractors by March 2016.
Besides John Deere, Kubota's North America competitors in the larger tractor market are CNH Industrial and AGCO Corp.


---
Kubota Tractor Corporation
3401 Del Amo Blvd.
Torrence, CA 90503
(310) 370-3370
Buck Trawick
Director, Marketing
(310) 370-3370